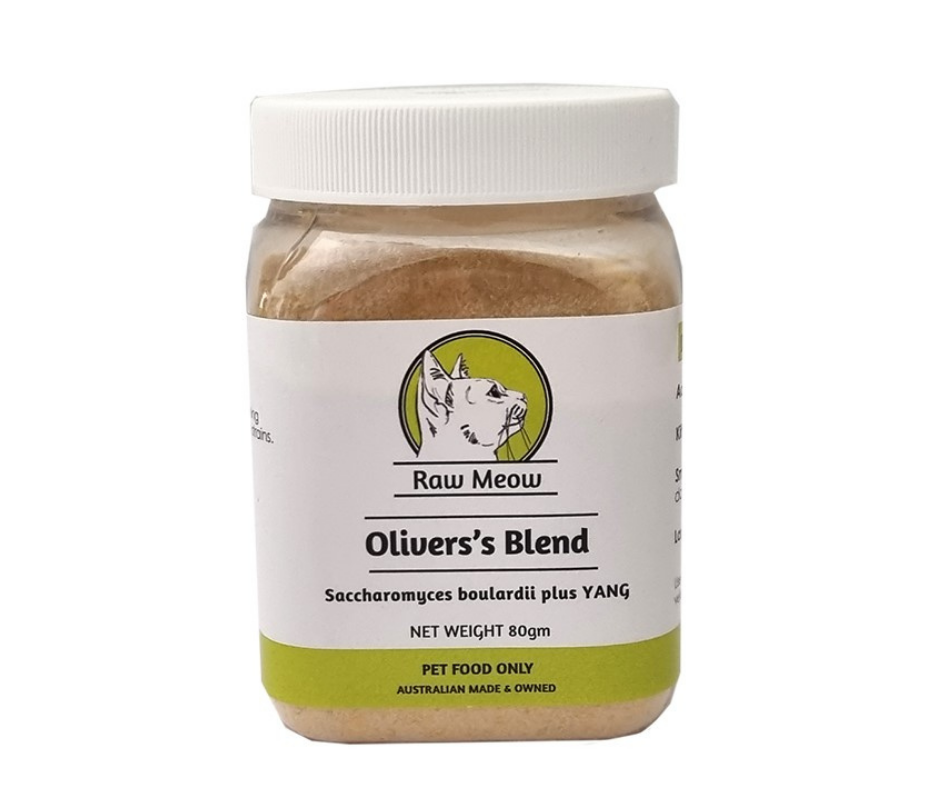 Oliver's Blend - Diarrhea Assist
Regular price $23.00 Sale
Oliver's Blend Diarrhea Assist 80gm
Oliver's Blend may assist in resolving idiopathic diarrhea by helping to reinforce the natural defence of the cat/dog.
Oliver's Blend has been formulated by an animal nutritionist specifically for use in cats and dogs
Oliver's Blend contains
Saccharomyces boulardii : a probiotic yeast to support the optimal balance of the gut microflora. S Boulardi may assist in resolving diarrhea and forming solid stools. LEVUCELL SB 20: highly concentrated formulation (20 billion CFU/g)
YANG : With it's specific combination of 3 different yeast fractions, YANG is able to activate several immune pathways. YANG is the newest technology in the prebiotic space, it's a multi species multi process product, selected and produced to maximize the number of binding sites as well as the strength of the binding sites. 
Freeze dried pumpkin : Pumpkin can be a helpful supplement to get diarrhea under control. Pumpkin adds bulk to stool by absorbing water, and fiber fermentation produces beneficial fatty acids that supply energy to cells, stimulate intestinal sodium and water absorption, and lower the pH level of the large intestines.
Vitamin E : acts as an antioxidant, helping to protect cells from the damage caused by free radicals.
DOSAGE

Adult Cats: 1 scoop twice daily over food
Kittens: ¼ to ½ scoop twice daily over food
Adult Small Dog: 1 scoop twice daily over food
Adult Large Dog: 2 scoops twice daily over food
Puppies: ¼ to ½ scoop twice daily over food

Oliver's Blend is to be used when required, to assist in resolving diarrhea. Please see your vet if diarrhea persists or if your cat or dog has stopped eating or drinking and shows signs of lethargy. Kittens can dehydrate very quickly and vet assistance must always be the first option in that situation.

FOR ANIMAL USE ONLY
KEEP OUT OF REACH OF CHILDREN
Use by date on current batch - 01/04/2024
*Oliver's Blend is not intended to diagnose, treat, cure or prevent any disease*