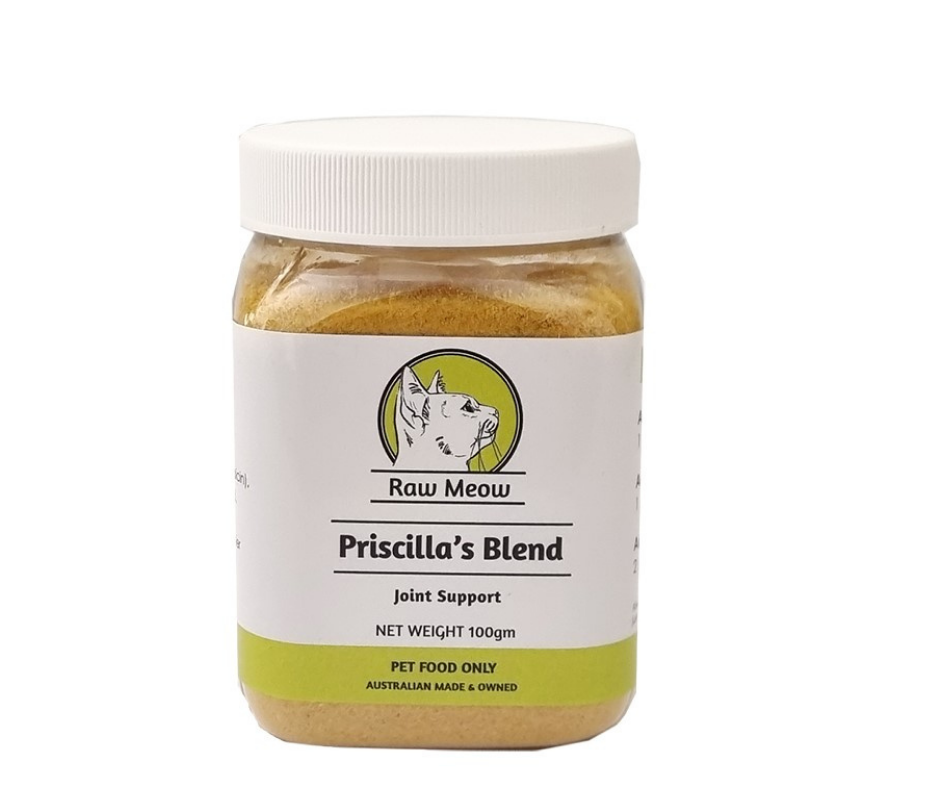 Priscilla's Blend - Joint Support
Regular price $23.00 Sale
Priscilla's Blend is a joint support supplement formulated to assist with joint pain in cats.  May aid in joint maintenance, provide relief, and help to prevent cartilage degeneration.
Priscilla's Blend contains the following ingredients:
MSM & Glucosamine HCL may help reduce joint and muscle pain and assist in improving joint health.
Collagen is the most abundant protein in the body and is an important component in connective tissues including tendons, cartilage and ligaments.
Green lipped mussel is a natural source of
Omega-3 fatty acids
Vitamins and minerals such as zinc, copper, iodine, and manganese among others
Amino acids
Enzymes
Antioxidants
Glucosamine and chondroitin
Turmeric Curcumin, the active in turmeric, is a powerful antioxidant that may help prevent cell damage.
Black Pepper (capsaicin) acts as a stimulant to activate the curcumin
Vitamin C may boost the immune system and promotes collagen production. Collagen is a connective tissue that is an important part of cartilage.
Lecithin.  – This antioxidant is one of the building blocks to the cell membranes and protects cells from oxidation. Lecithin improves vitamin absorption and contains 3 essential fatty acids. Improves immune function

DHA Omega-3 fatty acid docosahexaenoic acid (DHA). DHA supplements may help support joint health and function.
Dosage: (1 scoop = 1.5gm)

Adult Cat – 1 scoop over food daily
Small Dog 1 scoop over food daily
Large Dog 2 scoops over food daily
Not suitable for kitten or puppies
 Use by date on current batch - 01/06/2024
* Always start any new supplement slowly to avoid tummy upset *
*Priscilla's Blend is not intended to diagnose, treat, cure or prevent any disease*
*Freeze dried lamb liver is used as a carrier*