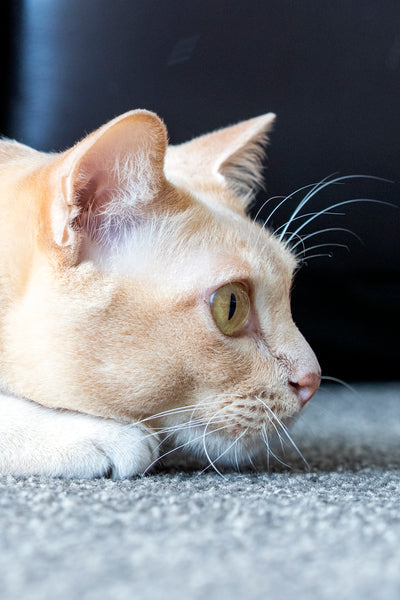 Welcome to Raw Meow
At Raw Meow, we believe feeding your pet a species appropriate diet is the best way to keep them happy and healthy. We're here for pet owners who are ready to start raw feeding and we offer multiple solutions to make this simple, while providing the best nutrition possible.
Our Raw Meow Mix was created to make raw feeding a breeze, and together with our Raw Woof Mix, our Frozen Meals, Freeze Dried Meals and amazing healthy Treats, we're here to help you start your raw feeding journey.
It's all about achieving the best solution for you so that your pets can lead a happy and healthy life.
It doesn't matter whether you're an experienced raw feeder or a time poor beginner, Raw Meow has the options for you. We are there for you as you take the first steps to a better diet for your pet. Our support and education networks will help answer your questions, show you step by step instructions, and ensure the move to a fully raw fed diet is as smooth as possible.
Raw Meow makes Raw Feeding Cats Simple.
Join our Raw Feeding group
What our customers say about Raw Meow
My cats are absolutely loving the raw food , mixed with Raw Meow Mix . The mix makes life so easy to feed the best diet. Thank you so much

Nicky
Raw Meow Mix is a Fantastic product to make raw feeding a balanced diet super easy! Just add raw meat . My cats loved it from the very first feed! They have shiny coats and look very healthy Definitely recommend this product for those looking to commence raw feeding

Amanda
I've never seen Kai (my burmilla) go crazy for any treats or food the way he does for Raw Meow! The best part is that their range is extremely healthy and provides cats with a balanced diet. I am so glad I came across Raw Meow at the Perth Pet Expo last year, and so is Kai!

Kasia
Awesome food for the kitties and the owner of the business truly cares for your babies too

Belinda
Laura has been most helpful & patient with me during the long transition period for one of my cats. Following her advice I now have 3 raw fed cats. The fussy Trinnie sits and asks for her meals now. I'm so pleased. The 2 fatties have lost weight & the third cat who was the perfect weight has maintained it.

I can't recommend Laura & Raw Meow highly enough.

Natalie
My two love it (when i thought they would not) I cannot believe in the short time I've had my cat on Raw Meow Mix,her fur is softer, she seems more lively and she always is looking for a bit more

Laura
I've been using Raw Meow freeze dried treats & food supplements for quite some time & couldn't have found Laura more informative & helpful with her Nutritional advice, not to mention her dedication to producing a great product.
4 fussy felines can't be wrong, Thankyou!

Gaye
Our cats just love the freeze dried chicken. We have used it as a stand alone treat, and have even crumbled it onto their food. Just wished I lived a little closer for the raw food

Najina
All of my cats are doing really well on the Raw Meow. And best of all, their litter trays are much quicker to clean!

Marissa
What Pet Food Reviews say about Raw Meow
"Raw Meow is one of the best cat foods available in Australia, and one of the only Australian companies offering a freeze dried whole prey raw cat food" Read the full review here
disclaimer

The information provided on www.rawmeow.com.au, and our Facebook group Australian Raw Fed Cats, is informational only. We aim to help you raw feed your cat and to provide guidance for some of the issues that can arise when transitioning your cats. Please be advised, I am not a veterinarian. Raw Meow Pty Ltd will not be held responsible for any adverse reactions your cat might experience based on the information on our website, nor can Raw Meow Pty Ltd be held responsible for any problems due to using our products in any manner other than as directed. Please consult with your vet before making any changes to your cats diet.